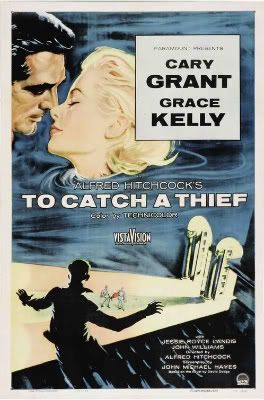 The more I learn about Hollywood studio execs, the less I would like to know. Nothing is sacred anymore. Hollywood has already remade a few of Alfred Hitchock classics and now comes word they are going ahead with a remake of the Cary Grant/Grace Kelly classic
To Catch a Thief
. And it's being re-tooled by the screenwriter of
Good Luck Chuck
no less! Are those the muffled sounds of screams I hear?!
Way back in 2004, Paramount was hot on the trail of remaking the 1955 release that starred Cary Grant as an American expat on the French Riviera who falls for a wealthy American, played by Grace Kelly, as a rash of jewel thefts breaks out. At that time, the studio wanted Todd Komarnicki (
Perfect Stranger
) to rewrite the project that would leave most of the original story intact - a reformed jewel thief scrambles to clear his reputation while being framed for a series of elaborate robberies from the super-rich- but change the setting to Miami, a former hot spot location for movie shoots.
Thank God for small miracles that the project stalled and sat on the shelf. That is until someone decided to dust off the idea again. Speaking with Moviehole, screenwriter Josh Stolberg (who also wrote
Piranha 3D
) updated the status of this remake:
(
FAIL
Collapse
)
Source