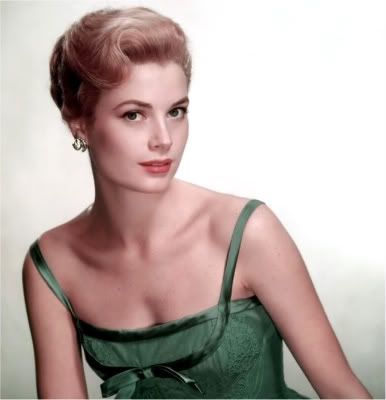 Grace Kelly has been dead for almost three decades, but next fall she will be making a splash in Toronto.
Toronto's TIFF Bell Lightbox has secured the exclusive North American engagement of
Grace Kelly: From Movie Star to Princess
, which will run from Nov. 4 to Jan. 22, 2012. An official announcement is expected this week.
The late princess of Monaco's rarely viewed gowns and artifacts, from the palace where she married Prince Rainer III in 1956, will be on display.
The Lightbox show is based on two recent shows that caused a stir across the Atlantic. The first was the Grimaldi Forum's 2007 exhibition in Monaco called
The Grace Kelly Years
. A 2010 show —
Grace Kelly: Style Icon
— drew huge crowds to London's Victoria and Albert Museum.
Although Kelly's infamous high-neck, lace, silk-taffeta and tulle wedding gown—a gift from MGM studio, designed by costume great Helen Rose--is owned by the Philadelphia Museum of Art, TIFF has scored a replica made by the Monaco Palace in 2007. The original gown, which took 35 MGM crafters six weeks to make, was shown for 20 years before the museum decided it was too fragile for excessive exposure and should only be shown on special occasions (it was brought out in 2006 to honor the wedding's 50th anniversary).
The exhibition will also feature the princess and actress' Van Cleef & Arpels tiara, her 1955 Oscar for
The Country Girl
, letters from Alfred Hitchcock, childhood scrapbooks, yearbooks, notes from Prince Rainier and Super-8 home videos she made.
The Lightbox show will include screenings of the blonde beauty's Hitchcock films including
To Catch a Thief
and
Rear Window
.
To get to the heart of the Grace Kelly magic, one must move beyond clothes and artifacts and watch her on the big screen. She made only 11 films and, in a way, her 1950s Hollywood career represented the only period of her life when she was free to be herself.
During her early years, by all accounts, she was restricted by the tight rules of high society in an aristocratic Philly family. And for the last quarter-century of her life, she had to play by the rules set for a European princess. Her husband made it illegal for movies starring Kelly to be shown in Monaco.
But when you see her win the hearts of James Stewart in Hitchcock's
Rear Window
and Cary Grant in
To Catch a Thief
, you will begin to understand why Kelly, with her unique blend of gorgeously cool style and concealed emotional hunger, had the power to seduce the entire world. Maybe that's what the Prince was afraid of.
Sources:
1
|
2
Jealous of Toronto rn, ngl.